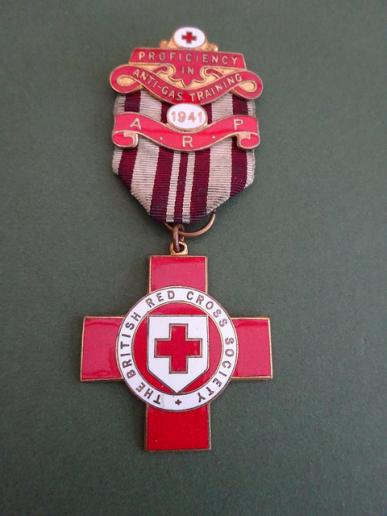 British Red Cross Society Proficiency Badge,Anti Gas Training with ARP Bar.
A nice Red Cross Proficiency in Anti Gas Training Badge from the second World war period.It also has a Air Raid Precautions Bar 1941.These Proficiency badges were awarded in a variety of subjects following examinations and this was one of the less common variants.
In good condition,enamel good with minor scratches.Suspension pin good with pin and clasp intact.Original ribbon,although sli... read more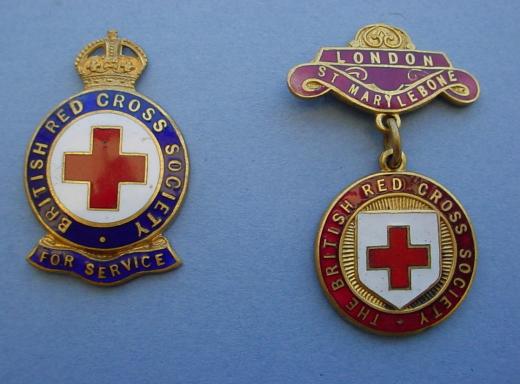 Red Cross Badge,For Service & London St Marylebone pair.
A pair of Red cross badges from the same source.The first is an enamelled For Service badge in good condition marked to the rear M and 548,makers mark for JR Gaunt London.Height 42mm
The second is a pendant British Red cross society badge with the bar title London St Marylebone. Again this is in good condition.Height 50mm read more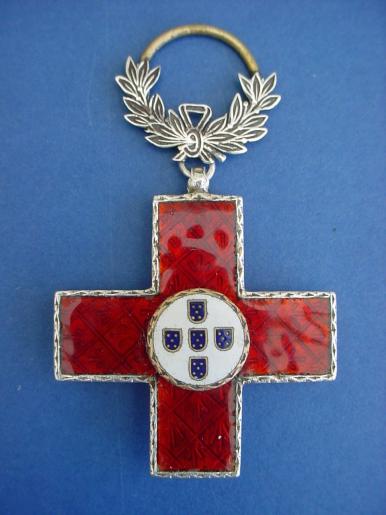 Portuguese Red Cross Medal
An enamelled medal for the Portuguese Red Cross.I am afraid I know little about this other than consists of a nicely enamelled red crows upon which are added two enamelled bosses.One side bears the Portuguese shields crest,whilst the other bears the Red Cross motto Inter Arma Caritas( this side has some scratches to the central boss).it is suspended from a circular laurel wreath.Ribbon is missi... read more